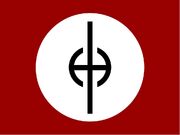 "Bringen sie mir Fegelein, FEGELEIN! FEGELEIN!! FEGELEIN!!! FEEEEEEEEEEGGGGGGGGGEEEEEEEELLLLLLEEEEEEEIIIIIIINNNNNNN!!!!!!!!!(HITLER AWAKENS)"
--Hitler the Ophelia after Fegelein the Irene annoyed and defeated him in RMP's parody--

"The development of Claymore season 2 is now bewegungsunFISH."
--Hans Krebs during his daily planning with Hitler(Fan made parody quote)

[Disclaimer: Downfall parodies are videos that are made to spoof the movie Downfall(Der Untergang), which contains contents about Adolf Hitler(Portrayed by Bruno Ganz). All of Downfall parodies are just simply making fun of Hitler(An evil dictator who deserves being mocked as awakened beings deserve being killed by Claymores) with absolutely no political purposes. None of the Untergangers supports Nazism in any forms.]
Reich Motion Pictures(aka RMP) is a 6th generation Unterganger who had debuted on February 5th, 2018. His channel is known for his Claymore-Downfall crossover parodies among the Unterganger Community .
Note: 6th generation Untergangers are Hitler parody makers who uploaded their first parody after 2018-1-1, 00:00 in their own timezone. All Claymore-related contents and important statements in this page are marked bold.
This profile page is the Claymore Wiki edition of the wiki page "Reich Motion Pictures " in the Hitler Parody Wiki .
Unterganging(Claymorganging) History
Edit
RMP had a Downfall parody channel with a different brand before his formal Unterganging career, while he had closed it due to low popularity. He had as many as 16 videos on his old channel. Some videos in this channel are reuploaded in his current channel after modifications/remakes. He was independent of the Downfall parody community before his current unterganging career.
He debuted on Feb.5, 2018 when he uploaded 6 parodies that he made before in one go. His first parodies consist mainly of Traditional/modified traditional parodies, with little involvement of FX(animated pictures such as wig). He made two gaming parodies.
He started to add more FX in his parody since late-march when he had uploaded a head-pasting test and subsequently made his first major FX project. He got a DCA by that project for the Best story-based parody in April. He used more head-pastings ever since.
RMP had achieved 1000 views on 2018-5-17 with 30 parodies, 71 likes, 0 dislikes, 1400 watch minutes, 7.6% click-through rate and 24 Subscribers. He is the second 6th generation Unterganger who achieved 1000 views after Mein Unterkampf (another Unterganger). He had released his 1000 view special parody two days later.
2018-8-11, He announced his first Q and A session for the celebration of his 6-month Unterganging milestone and his 47 subscribers. This Q and A was closed on 2018-8-31 and the result is announced on 2018-9-8.
His channel has achieved the 10000 views milestone on 2018-11-17, and 100 sub milestone on 2018-11-19.
Downfall parody style
Edit
His first parodies consist mainly of traditional/modified traditional parodies, with some brief applications of FX. Technically, his first parody with FX was Hitler's earphone is broken , uploaded on Feb.16.
He started to use more FX(especially head-pasting) since late March, and they are widely applied on his various parodies since then. He even put FX in a Hitler phones video . He uses rotoscoping for parodies as well. 
He uses Movavi Video Editor Plus for most of his video editing, chroma keying and head pasting, and Adobe After Effects CS6 for rotoscoping.
His first major FX parody,Claymore Hitler fights with Fegelein'''' ,' had won the Downfall community Award (Best story based parody) in April 2018.
Four of his parodies won the DCA in four distinct categories in May 2018, including his Chemistry parody , Hitler's bad day at soccer field 1 and 2 , as well as his 1000 views special . He is also the winner of Parody of the Month(Hitler's bad day at soccer field #1) and Unterganger of the Month in the same round.
He won the Unterganger of the Month the second time in the June round.
His parody, Baldi invades the bunker , had won the Downfall Community Award (Best FX) in the 2018 July round.
His UMS parody, Hitler visits my Minecraft Führerbunker creation , has won the Best Videogame parody as well as the Parody of the month in the 2018 August round.
His parody, Hitler is turned into the Hitler beetle, has won the Downfall Community Award (Best FX) in the November 2018 round.
Two of his parodies have won the DCA for the January 2019 round, including his Hitler Plays Action 52 (Part 1 )(Part 2 )(Best video games), and Göring the farting waffle iron (Most Humorous).
[The owner of this page and the Reich Motion Pictures YouTube channel, the related wiki page in the Hitler parody wiki is the same person, Reich Motion Pictures RMP, who doesn't support Nazism, Fascism and Anti-semitism in any forms.]
He made some parodies for school projects as well. He made one about Chemistry and it is embedded in his Grade 11 chemistry presentation about double displacement reaction . He also made a kahoot about Physics before, that contains Downfall parody contents from the beginning to the end.
His parody universe contains contents from Claymore , '''a Japanese anime broadcasted in 2007. He has a special playlist for them o'n' his channel. One character, Ophelia (Ophelia Fegelein ), who Hitler hates just as much as Fegelein, was announced as Hermann Fegelein 's younger sister in his 1000 view special parody. In his parody character setting, she is having a desire of being an antic maker as well and actually tried some antics in a parody .' She has appeared in several parodies so far as well as in his community drama SP .' RMP refers to this family as "The Fegeleins".
In his parody universe, Himmler is also the leader of his own news broadcasting company, Himmler Daily News(HDN). This faction had appeared in 3 parodies so far: Hitler's All Crappy Video Quality Problem , his Ophelia playing antics parody and his 1000 view special parody. Günsche and Göring are also the staff members of HDN.
He sometimes makes typos in his parodies.
He named his channel logo as "The Red-White-Black banner" or the "Rot-Weiß-Schwarze Banner". It also has a nickname that only visible in this wiki, which also tells the source of this logo: "The Ophelia Jack".
He sometimes adds post-credit scenes in his videos.
The 47 milestone setup for his Q and A is a reference to Claymore as well.
He also likes to read 1984, the dystopian novel written by George Orwell. He later made Hitler's day under Telescreens , a triple-crossover parody of Downfall, Claymore and 1984.
He made an unlisted shitpost about a recent drama (Toilet) happened in the community. It is available here .  Claymore scenes were used.
External links
Edit
His channel: https://www.youtube.com/channel/UCdiZF8bNYgzA6qxjNeEaqxg
His Social Blade stats: https://socialblade.com/youtube/channel/UCdiZF8bNYgzA6qxjNeEaqxg
Präsentiermarsch der Volksmarine(GDR): https://www.youtube.com/watch?v=Qj28HlU_0sg
Unterganger Chat Central(Discord server invite link): https://discord.gg/rxZPbuZ
Community content is available under
CC-BY-SA
unless otherwise noted.