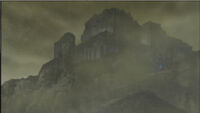 Town in the eastern region of Sutare (Sutafu in anime). Also "Staph" (Italian), "Sutaph" (Spanish).
Headquarters of the Organization[1].
The town is actually unnamed. Various translations confused the region of Sutare/Sutafu (スタフ) with the town. "Staff" approaches the Japanese pronunciation "stef" of the transliteration, "Sutafu."
"Staff," "Sutare" and "Sutafu" are all translator variants of the same eastern region, "スタフ."
Most dwellings in town appear to be cave houses, built into cliffs. Large free-standing buildings may also to belong to the Organization.
Little is shown of the Organization's facilities. Shown are council hall meetings[1][2][3] and the interiors of Claymore apartments[4][2]. Extra Scene 4 shows events at the Claymore training school.
References
Edit
Community content is available under
CC-BY-SA
unless otherwise noted.